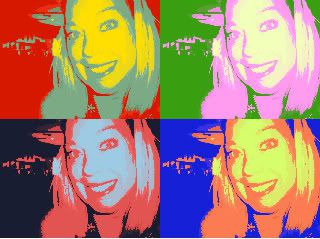 Why is the first post in a new blog so hard to start..
I have so much to talk about ..
but when I start to write the first blog here ...
I start to ask myself where do I start?
Do I talk about me first ?
I have another blog on my myspace
it never seemed this hard
maybe cause this one I want to be different
I want more of an impact on myself here ..then there..
I try very hard to keep my blog there upbeat ..
but the fact is I am not always upbeat
sometimes I am beat up lol
I feel like there I shouldn't complain
it seems most people shy away when you are down
even people you call friends
So this blog I want for me ..and if people read it
they do so because they wanted too
they don't need to read it ..
if I am down and out and talking about it.
So let this be a warning to any readers
I may cuss
I will Bitch
I will Laugh
I will Cry
I will say what I want without feeling regret
or worrying I might offend someone
after all that's why people blog ...right?
This blog is for me ..not you
But if you like it and want to comment and be involved
that's cool with me too.
so lets start with a little about me
so any future blogs may make some sense
I am 38 years old
in so many ways I feel so much older then that
but in some ways I feel younger then that
I have taken some hard roads
made some terrible choices
made some really good choices too..
All my choices.. made me who I am now
Seven years ago I made the choice
to care for my elderly grand parents
They where very sick and needed 24 hour care
My family and I moved them closer to us
and I stopped working as a nursing assistant to take care of them
At that time I was married but separated ..living on my own
I felt a spiritual pull to help my grandparents
whom I had not seen or really spoke to
other then a few times over the past twenty years
My choice to do so was sometimes misunderstood by some of my family
But my reasons where eventually understood by most of them.
My grandmother suffered with mental condition most of her life
untreated
which after taking care of her I began to
recognize
and understand
It took years to have her medicated correctly
and at the end of her life in late 06 we had grown to love one another
and forgive the past
I was there by her side
when she passed on quietly at home
in the early morning hours of Oct 30th 2006
After her passing I knew my life was about to change again
At this point I moved my grandfather into my home
along this journey with me was Dave
He..who even while we where apart remained a huge part in my life
supporting me and my choices
and helping me every step of the way
in a way this whole experience re-defined us
after so much pain and hurt of the past ..
we became best friends and each others biggest supporters
and we learned how to communicate with out
the baggage of the past influencing every topic.
more about all that another time
Grandpa lived with me till Jan 08
when his dementia got to the point
that I could no longer take care of him myself anymore
I placed his a nursing home and he remains there today
I continue to over see his care
During all this time my father also got very ill
and presently I am taking care of things for my parents
my father can no longer drive
So I do all of there shopping and handle all their medical needs
Recently Dave's grand mother has moved to our area
and I help her too as much as I can.
We work hard everyday
to not fall back into our old communication habits
We have been together now 14 years ..
even when we where not "together"
But we are best friends .
I have no children
and that has always made marriage to me different
You learn as a child that you grow up get married and have a family
but what about those whom cant complete that want
After many years of fertility treatments I stopped trying
I need to figure out what I want my life to be without children in it
until a few years ago
I have always held out a bit of hope..one day maybe
But now at age 38 I face what life is without children
more about all that in upcoming blogs I am sure
on my down time I am usually home
on the computer
reading a book
cleaning house like everyone else
I like to write
when the words flow
I like to take pictures
but don't have a great camera ..Yet
I am a spiritual person
I don't really follow any religion
I follow my heart and my "feeling"
I believe in signs
and I follow the ones that show in my life
which is also sometimes misunderstood by some
I am the youngest of three children
but have always felt like an only child really
My best friend is a recovering alcoholic
has been recovering for 4 years now
he is ..
we are ..
definitely not the same people where where 14 years ago.
I was married once before too..
when I was 18
I married my first love ..
My first marriage ended badly
mostly my fault
but I can't and wont take all the blame
Besides we where to young
I was not ready for marriage ..I know that now
I really had no clue how to even be a wife
I went from going to high school
to being a wife ...
with all the responsibility that in tails
and really had no clue
They say you learn from your family how too..
well I didn't have a clue
My parents ..my family was not an example to learn from back then
I happen to marry into a family completely opposite then my own
and was lost and out of place from day one..
many things lead up to the end of my first marriage
and I am sure I will talk about this too
I learned from a very young age about regret
I have tried to live life sense then without..
by doing whats right
for the right reasons ..
so later on down the road
I can move forward with my life without regret
it's not an easy thing to do ..
I only have one regret in my life at this point
the others I have found a way to fix and move forward from
someday I hope to be able able to express myself
to this person..
whom the regret involves
and find a way to forgive myself and truly move forward from it all
Until that point
I shall move forward in my life
Just as he has done with his
I do so ..
with the knowledge of what this regret feels like
and try not to let it happen again
That's the lesson in regret ..I guess
My relationships today ..
are so much more healthier
my parents and I are very close
and have really come a long way
from the 16 year old girl who moved out on her own
to remove herself from the dysfunction that was my family back then
I do everything I can for my parents these days
and I keep myself in the moment and enjoy those moments
because I know someday ..those too will come to an end
Age and illness have changed all of us
while it's not easy to face their health declining
I cherish every moment ..every conversation
I share my balance of heart and soul with those I love most
I listen to their outlooks and share my own
it's a good balanced life
but even the most balanced of lives
have ups and downs
sometimes I need to vent
about the circumstances going on in my life
and while Yes I made my choices
I am allowed to Bitch if I need to along the way
all choices bring on challenges..
hardships along the way..
till my next post ..